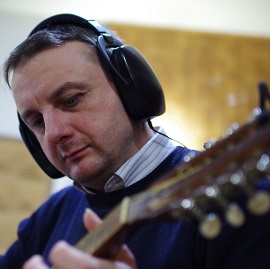 Luthier, musician, instrument collector, renovator of Polish musical antiques and co-author of scientific publications on the subject. He runs Szczecin-based Ditonus atelier, where beside craftsmanship he devotes time to vocal practice: natural voice emission and old songs. He continues the singing traditions of his ancestors from Lublin region and central Poland.
In 2019 the Museum of the Origins of the Polish State in Gniezno hosted an exhibition entitled "Music Culture at the Beginning of Polish State" which featured his instruments. In private life he is husband and father of two.
At the concert he will perform the repretoire passed onto him by his parents, who came to West Pomerania after 1945. His father was born in the village of Sąsiadka near Zamość and was a wedding musician in his youth, mother – Janina Mazurek was raised near Łowicz and to this day sings many songs from that region, some of which can be found on the album "Tutejsi. Zachowane w pamięci mieszkańców Pomorza Zachodniego" (Fonogram Źródeł 2017).