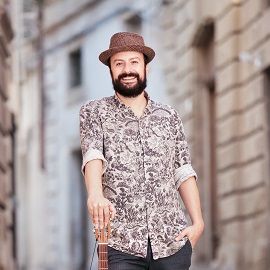 Instrumentalist and singer, enthusiast of polyphonic singing and romantic serenades. He plays the guitar, bouzouki, mandolin and tambourine.
He learned at a young age from Antonio Calsolaro and performed with musical ensemble from Alessano. He has mastered the music of southern Italy, called musica dei barbieri as it used to be heard particularly in barber shops. These are instrumental pieces with typical napolitan style, classical music, waltzes, mazurkas, polkas and quadrilles from the south of Italy.
Massimiliano's personal style has been formed in co-operation with Uccio Aloisi, one of the last great singers from Salento. He gained back then a wide range of polyphonic songs that accompanied workmen, love serenades, vocal pieces with the accompaniment of drums, rhymed stornelli and songs for pizzica pizzica dance.
Since 2006 he has played with Kalàscima, which performs traditional music also on electronic intruments. Together they took part in the most important festivals such as Tallin Music Week (Estonia, 2018), Mundial Montreal (Canada, 2017), Colours of Ostrava (Czech Republic, 2016), Roskilde Festival (Denmark, 2016), Ethno Port Festival (Poland, 2016), Fira Mediterrània de Manresa (Spain, 2016), Babel Med (France 2016), South by South West of Austin (USA, 2016) and Sziget Sound Festival (Hungary, 2012).
He has BA in communication and MA in political science. The title of his thesis was "Songs of love, disdain and devotion, an ethnographic study of folk songs from Salento".