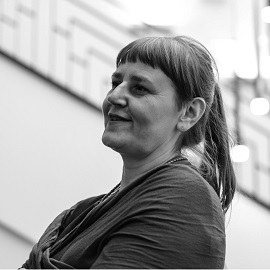 Ewa Grochowska researches styles of traditional singing (mainly ritual songs) in Poland and Central and Eastern Europe. She makes recordings in the field, runs workshops and gives concerts of Polish traditional songs and instrumental music in north Lesser Poland and Lubelskie voivodeship. She is author of educational and artistic projects which aim to pass on, reconstruct and promote Polish traditional music. Since 2017 she has been researching cultural identity and traditional music transformations in difficult historical circumstances as were post-war relocations. She is very fond of folk wedding songs which do not allow half-hearted singing and which she has learnt from traditional singers in Poland and Ukraine since 1999.
She was a student of violinist Jan Gaca from Przystałowice Małe in the years 2000-2013.
She has been involved in numerous music projects and bands: Tęgie Chłopy, Z Lasu, Warszawa Wschodnia, Orkiestra Jarmarku Jagiellońskiego, MZK Toruń.
She also obtained a grant from the Minister of Culture and National Heritage. She has got PhD in human sciences.
Fot. K. Gołębiowska