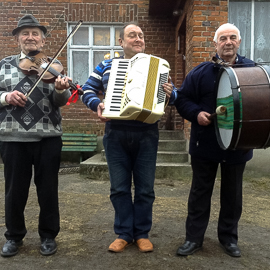 Probably the last family band around Kalisz. Józef Antczak plays the fiddle, his son Leszek – the accordion. They play local, non-stylized music, where simplicity and conservative character are reminiscent of long wedding performances. The repertoire features mostly "owijok" (counterpart of mazurka) , oberek, walcerek and Kalisz polka. Father and son are also members of Brzeziny folk group, who performed in many European countries (Belgium, the Netherlands, Russia, Germany) and at the Festival of Folk Bands and Vocalists in Kazimierz Dolny. The Antczak band plays live at local dancing parties in Czempisz.
Józef Antczak (b. 1929 in Brzeziny near Kalisz) – master tailor, fiddler, harmonist. He played at a wedding for the first time when aged 20. When he was young, used to play a small harmonia. During military service as corporal he co-founded the army band in Krosno.
Lesław Antczak (b. 1964) – harmonist, accordionist. Father gave him the first instrument when he was 14, and he learned to play by ear. Since then, they have been playing together for 40 years now.                                                                          
Stanisław Pawlik (b. 1944, lives in Przystajnia) – plays the baraban drum and harmonia. Started the harmonia at the age of 10, has played at weddings and parties, also for army officers. The baraban came much later, when he moved to Przystajnia by the Prosna river.