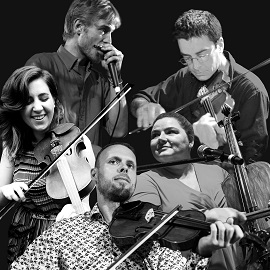 Obourek Trancexpress is a music project created at the meeting point of two live traditions: French bourree and Polish oberek. The triple metre rhythms once common in traditional music in many regions of Europe today are a relic and heritage of past times in the era of popular music dominated by a duple and quadruple metre in rhythm. There are, however, people who care for these departing traditions, and among them these musicians from France and Poland who have found a common rhythm in their music. This project explores the similarities and differences of french and polish traditional dance musics and plays with their subtleties. Daniel Detammaeker (harmonica) and Nicolas Roche (fiddle) met with traditional singer Joanna Szaflik and fiddlers Jarek Cendrowski and Dominika Oczepa in south France during a fiddle festival. They spent several days playing and sharing with passion and found out that they could speak the same language with a different accent. With the purpose of driving the public to dance irresistibly, this new kind of fusion reveals the brotherhood of traditional music lovers.
The Obourek project is characterized by both care for style fidelity and the severity of rural music, as well as the courage to combine two geographically distant music traditions. The project is inclusive by its nature and its dedicated both to dancers and listeners.
Daniel Detammaecker is a french musician, singer, multi-percussionist and dancer, graduated of music studies in traditional music with a memoir on the harmonica. He is specialized in the south-west repertoire of France, and plays with the bands Clica Dròna, Nhac!, Tchintcholhibus, DuoBois e Co., NonStop Project.
Nicolas Roche studied ethnomusicology and is specialized in the dance repertoire of south France. He plays fiddle, banjo and mandolins with the bands Tornamai, la Brèche, duo Banjo, duo Arverne, Manja-Pelos, and he is the creator of the fiddle festival "la Fête des Violons Populaires".