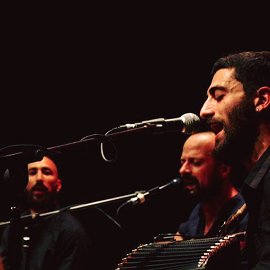 The project was born from the musical meeting of three talented protagonists of the Italian popular and world music scene: Massimiliano De Marco, Luca Buccarella and Roberto Chiga.
From very young they form their musical taste thanks to the meeting with some of the most significant spokespersons of the traditional Salentine culture, including the "singing trees" Uccio Aloisi, Luigi Cafaro, Pino Zimba, Cantori di Carpino and the musician Antonio Calsolaro.
Subsequently they undertake a personal research that goes from the technical study of the different instruments, to the music-therapy and finally to the musical composition, which leads them to integrate songs and sounds learned traditionally with specific musical skills.
Salentrio is an explosive trio of popular music from Salento that, with the spontaneity and the typical spirit of dance parties, offers a wide and refined repertoire.
The concert becomes an opportunity for Salentrio to lead the audience on a different musical path, coming in harmony with the audience and modulating the musical proposal according to the context.
The repertoire includes the pizzica of the bass and alto Salento, stornelli (chanting and answering songs), polyvocal songs to the stisa (songs for voices only), songs on the drum, waltz, mazurke, barber sounds (the music of shaving salons) , serenades of love and other tarantelle typical of the various areas of southern Italy.
The instrumentation used by the trio is composed of diatonic accordion, classical guitar, mandolin, Irish bouzouki, Salento-style drums to which are combined poorer instruments, but rich in musical colors, such as the rattle violin, the spoons (spoons) ), buttija (the bottle), the washing (wooden boards used to wash clothes), marranzano (scacciapensieri), tablets (two small wooden boards tied by a rope).
In addition to the songs and sounds that are the fruit of constant research in the field, Salentrio also offers pieces of their own composition that combine the traditional style with a modern compositional approach.
The members of the group, over the years, have collaborated with several musicians and bands and have trod big national and international stages
They are also authors of the music for the stories on the history of Salento present in the application "Sherazade storymaker for traveling".
The members are part of the "Kalascima" group, one of the most innovative word music bands.
LUCA BUCCARELLA: voice, diatonic accordion, harmonica, tambourine, spoons
MASSIMILIANO DE MARCO: voice, guitar, mandolin, irish bouzuki, tambourine
ROBERTO CHIGA: frame drums, rattle violin