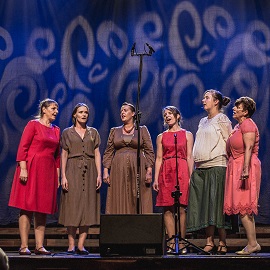 Bujne Ziele singing ensemble from Szczecin.
Bujne Ziele represents a wider group of participants of the musical project entitled "Genealogies: the Music of West Pomerania" conducted in Szczecin and Westpomeranian Voivodship under the direction of Ewa Grochowska. The project evolved from earlier workshops dedicated to research and practice of traditional singing as a tool for fostering community and leading to reflection about cultural, social and regional identities. The aim of this work, beside vocal development and studying specific performance styles and musical traditions, is to observe the process of transmitting musical tradition in this region with particularly difficult history.
Their subject matter are traditional songs from the families who came to West Pomerania after 1945. Presently they are working on the repertoire brought from the Vilnius vicinity. With this program the ensemble won second place at the IV True Musicans Tournament at M. Karłowicz Philharmonic in Szczecin in 2018.
Singers: Ewa Grochowska, Ewa Jochymek, Marta Kasperska, Ewelina Klepacz, Kamila Kijo, Agnieszka Pawłowska
Music director: Ewa Grochowska
Links: Facebook, Vimeo, Radio Szczecin.