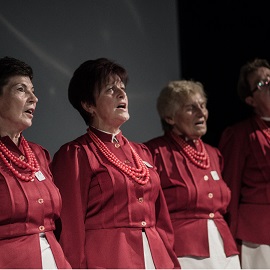 Kresowianka Regional Singing Ensemble from Letnin near Pyrzyce.
The ensemble started in 1983 in the village of Letnin and in 1988 took the name Kresowianka (Maid from Borderlands), which conveys the character of its repertoire and makes reference to the place of birth of its founders. It was established by women from Letnin relocated in 1945 to West Pomerania from the village of Milatycze near Lviv. 
Having a singing ensemble was to them a form of going back to their native musical traditions and enabled the preservation of songs from their homeland. Presently the songs are passed on to the next generation of singers, whose families migrated to Pomerania from other places in Poland.
The ensemble won the Oskar Kolberg Award in 2007 and many other prizes and honours and has performed at many events in Poland.
Singers: Władysława Weronowicz, Maria Pierożak, Helena Maruszak, Bożena Urban-Tymko, Teresa Niekorek, Teresa Korniewicz, Krystyna Szwarc, Tamara Ogiejko, Andrzej Ogiejko
Danuta Cząstka – singer, director
Ryszard Głogowski – music director