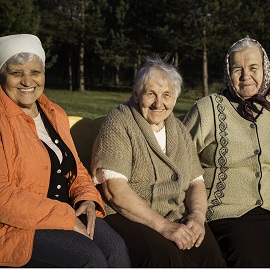 The Singing Ensemble from Dobrowoda has been in existence since 1968. Its current line-up is: Walentyna Klimowicz (born 1943), Nina Jawdosiuk (born 1942) and Barbara Jakimiuk (born 1945). The songs they perform are unique for their melody and lyrics. They are ritual songs of the annual cycle: the so-called rohulki, wysnynky (two types of Spring songs), haymaking and harvest songs and rite songs for such occasions as christenings and weddings.
The ensemble has performed concerts in Poland and other countries (Belorus, Ukraine) and won several prizes. Their songs can be found on a three-disc album "Pieśni nie tylko święte. Tradycja muzyczna Podlasia" and "Ludowe pieśni religijne z Podlasia cz. II". They also obtained the Minister of Culture and National Heritage Award. 
In 2018 the ladies conducted workshops under "Podlachia Multivoice" project.
In 2019 Mrs Nina Jawdosiuk will conduct workshops under "Master of Tradition" project.