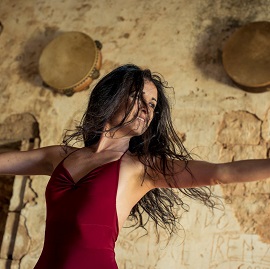 Veronica comes from Miggiano (Lecce). She fell in love with the popular dance of 'Pizzica' which originates in her region so much that she chose to follow it as a career and her main area of creative expression.
She has collaborated with a large number of musicians and artists, performing shows at Festivals and theaters in Italy and abroad.
Some of the Festivals in which she has performed: Locarno Folk, Festival Della Lingua Italiana, Tarantelliri Festival, Taranta Sicily Fest, Li Ucci Festival, Sud Sud Festival, Basula Fest, Festival Book And Wine, Festival Oriente Occidente, Battiti Live, Popoli Festival, Calitri Sponz Festival, Sibylla Folk Festival.
She has been awarded the 'Nettuno', 'Raffaello Sanzio' and 'Diego Velazquez' awards from the 'Italy in World arts' academy.
Her career has seen her to being invited to perform in Bosnia, Sofia, Baveria, Locarno, Budapest and Corfu. Most recently she has represented Puglia in the city of Shenzhen in China.
Since 2015 she has performed in the theater show "Morsi d'amore" and on November 20, 2016 she founded the Cultural Association "Terra Battuta" in Conversano (BA) where she regularly organizes meetings on folk dances. Today she collaborates with several Apulian and non-Apulian musicians, completing her activity through shows, concerts, events, performances and stages throughout Italy. She boasts an enviable experience in the Salento area and a personal research and experimental approach to dance.
Fot. Maurizio Puato