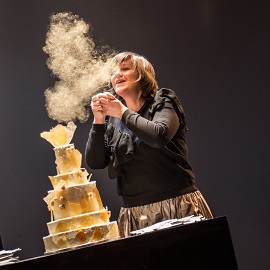 Curator and performer.
Designer of artistic culinary events. Expert and promoter of regional and traditional cuisine. Designer of international study visits for national institutions. Member of the Board of the Festival New Epiphanies and the European Festival of Taste in Lublin.
Initiator and author of educational cycles; mainly:
– Polish and Jewish culinary tradition in Menora Info-Point
– vodka and Polish products in Vodka House.
Currently food writer for magazine "Przekrój", previously a journalist in "Rzeczpospolita", "Food Service, "Coaching" magazine and editor in Kulinarni.pl, a portal of TVN-online. Author of: "Polish cuisine you do not know" (with Kurt Scheller, 2005) and the publication "Cuisine PL" (2011), promoting Polish gastronomy during Polish Presidency in the EU.
Fot. Marta Ankiersztejn, Nowe Epifanie