Janusz Prusinowski Kompania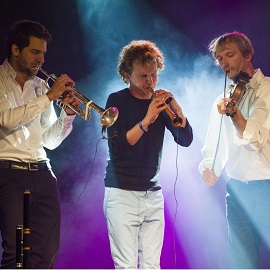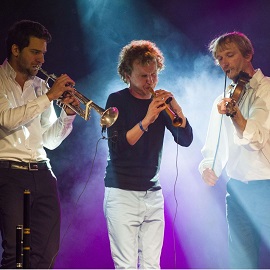 Apprentices and continuers of village musicians – Jan Lewandowski, Kazimierz Meto, Józef Zaraś, Piotr and Jan Gaca, Tadeusz Kubiak and many others – and avant-garde group with a characteristic sound and original "language" of improvisation. They combine music with dance, archaism with contemporary experience, concert tours with educational activity in Poland and worldwide.
Apart from concerts (often accompanying dances), the band's music can be heard at village dance parties and Dance Clubs in the cities. Kompania also runs various music and dance workshops.
Since 2008, the group played many concerts in most European countries, Asia, Canada, the USA ( e.g. Carnegie Hall NY, Chicago Symphony Center) and – above all – in Poland, both at big festivals (like Open'er Festival World Stage) and in small venues.
Band members:
Janusz Prusinowski, fiddle/Polish harmonia/dulcimer/vocals
Piotr Piszczatowski, drum/baraban/basy
Michał Żak, wood flute /shawm/clarinet
Szczepan Pospieszalski, trumpet