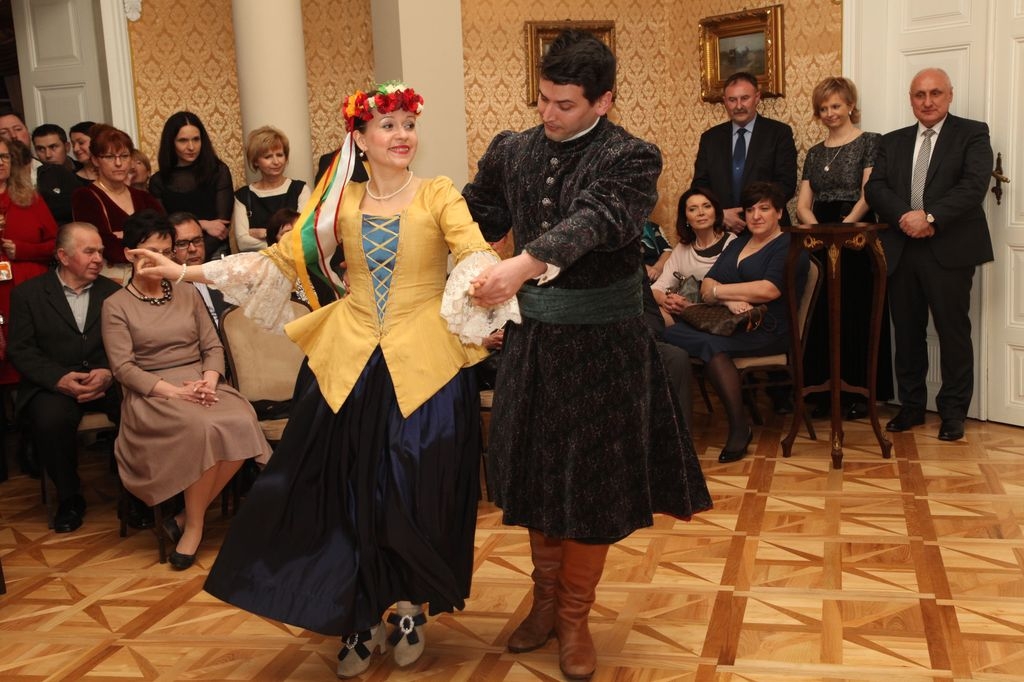 Date
Apr 26 2018
Time
19:00 - 21:00
Cost
30 zł
CONCERT A dialogue of Polish Dances. Folk vs. National
The dancing customs of manor houses and villages, ballrooms and inns, had for many centuries intertwined and inspired each other, all the while preserving their separate qualities. Polish dances, whether courtly or country, have been a crucial element of Polish identity. We hope that today as well they can constitute an important factor in Polish culture and speak to our sensitivities.
The present concert intends to demonstrate both the diversity and the unity of these two registers of dance and music. Since the earliest mention of "national dances" in the first half of the 19th century, choreographers have been arranging dances for the scene and record them, which helped to preserve the dances, although sometimes their form evolved. Dr. Tomasz Nowak writes more about it.
Two groups – early dance reconstructors and folk dancers – accompanied by two bands (chamber music ensemble and village musicians) have jointly prepared the repertoire of this concert. At the beginning, the historical versions of the dances have been paired with their folk counterparts as we know them today, and as a result we have:
Polonaise vs. chodzony
Kujawiak vs. kujawiak
Mazur vs. mazurka
Oberek vs. oberek/mazurek
Krakowiak vs. krakowiak
Contredanse vs. kontro
Valtz vs. walczyk
Polka vs. polka
In the course of rehearsals mutually intrigued artists explored similarities and differences in the style of music, movement, phrasing and rhythms between the folk and historical renditions. The folk group of dancers were directed by Piotr and Bogumiła Zgorzelski. The historical reconstructors by Robert Lubera and Anna Ilczuk. It has been an encounter of two worlds, two different aesthetics, philosophies of melody and movement, which nevertheless completed each other and cocreated a rich and surprising dance landscape as a result, one that could be named: Poland dancing!
Polish folk dances in traditional version will be presented by a group, who got their skills and knowledge by practising with village dancers or in folk ensembles. The tour de force is going to be the mazura and polka from the vicinity of Przysucha presented by Maria and Zenon Siwiec and Mr and Mrs Cieślak. The dancers from the folk group will mainly focus on presenting usable versions of dances in traditional forms as well as contemporary ones, which were created at rural and urban dance parties.
The group of dancers from Amatum Art Agency specialise in reenacting early dances. They participate in concerts, shows and events which keep up with the convention of specific art periods, from the Middle Ages until early 20th century. Amatum are also interested in national dances. They research historical sources and history books and have workshops with experts. The concert will present national dances characteristic of Polish salons and ballrooms as well as the dances which were only preserved in their stage versions although we know they used to be danced in old times by nobility and pesants. The Polish national dances were choreographed by Tomasz Sadlakowski.
Concert curators: Katarzyna Lindner, Joanna Sasinowska, Janusz Prusinowski
Expert consultation: dr. Tomasz Nowak
MUSICAL ARTISTS:
Sabionetta Quartet early music ensemble:
Agnieszka Obst – Chwała – violin
Judyta Tupczyńska – violin
Aleksandra Demowska-Madejska – viola
Maciej Łukaszuk – cello
The Niwińskis Band:
Mateusz Niwiński – 1st violin
Angela Zajcewa – 2nd violin
Piotr Domagalski – basolia/double bass
Magdalena Sobczak – cimbalom
Agnieszka Niwińska – frame drum/ baraban
Village dancers:
Bogumiła Zgorzelska
Joanna Sasinowska
Katarzyna Lindner
Paulina Szagżdowicz
Małgorzata Baran
Piotr Zgorzelski
Grzegorz Ajdacki
Rafał Kwietniewski
Dominik Wóltański
Jerzy Sawicki
Guest stars:
Maria i Wacław Siwiec, Marianna i Tadeusz Cieślak
Historical dance performers:
Anna Ilczuk
Ewa Bargiel
Karolina Szymula
Anna Korbolewska
Robert Lubera
Tomasz Sadlakowski
Adam Czechlewski
Kornel Jakubczyk