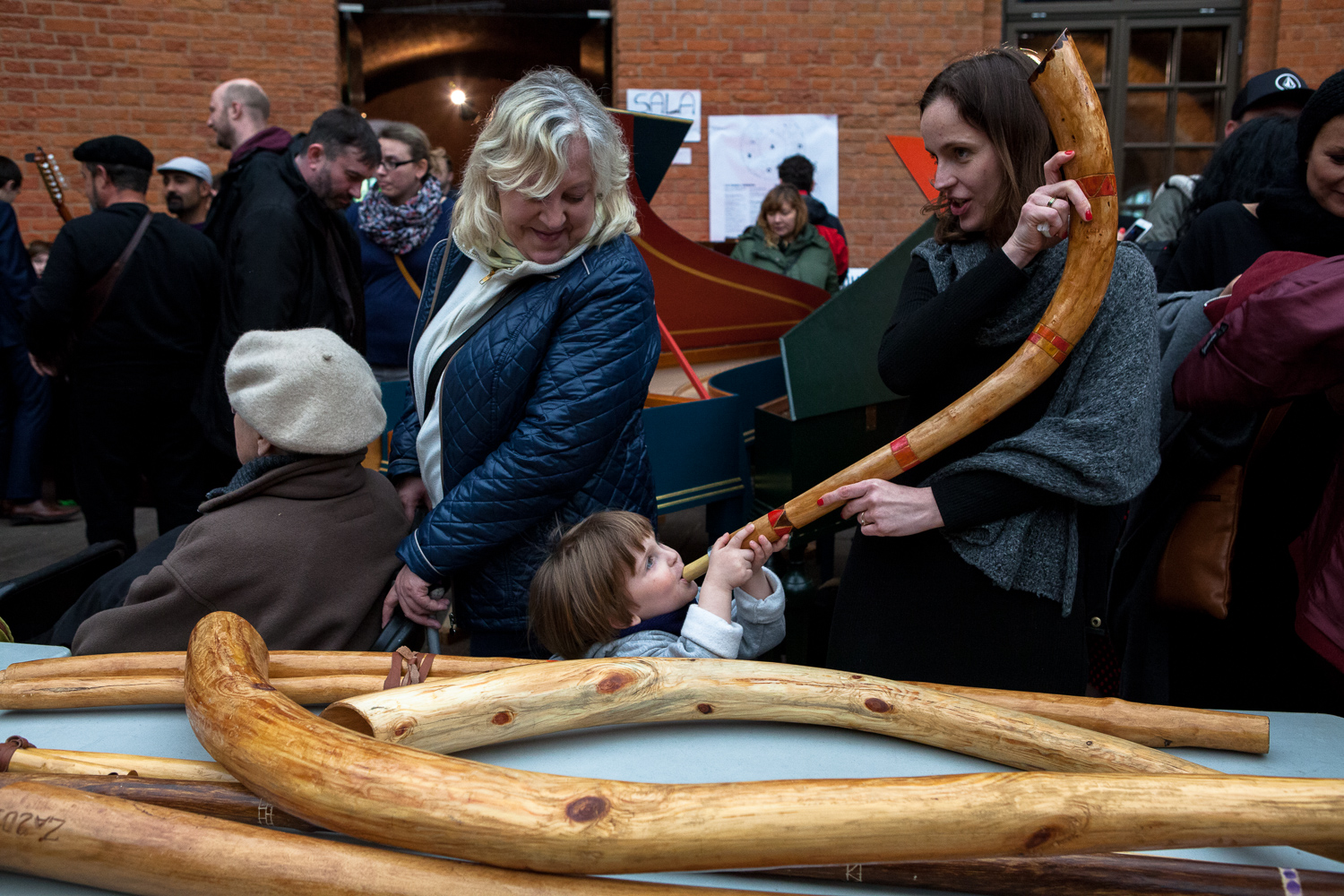 Date
Apr 28 2018
Time
11:00 - 18:00
Cost
10 / 5 zł
Instrument Fair
This year, the Instruments Fair will be present at the "Mazurkas of the World" festival for the eighth time. The Instrument Fair, which is the culminating element of the "Mazurkas of the World Festival" every year, is a colorful carnival that fosters an informal, creative network of artists.
We invite exhibitors from Poland, Europe, and the whole world to present their work: traditional, classical, historical, reconstructions, as well as novel musical inventions. As in previous years, the Fortress (Forteca Kręglickich) will also host instrument technicians, tuners, collectors, musicians, researchers, musicologists, and museum specialists.
The exhibition is combined with concerts, workshops, showcases, theater, spontaneous music and a rich set of activities for children. In 2017, we hosted over 120 instrument makers from 10 European countries. We hope this event will grow even richer in the coming years.
An Honorary Mazurka will be awarded at the Instrument Fair as a token of appreciation for the lifetime achievement and willingness to share the art. This year we would like to honour friends without whom it is hard to imagine the festival: Zbigniew Butryn and Tadeusz Grabowski – instrument builders and dear friends to the musicians of the younger generation, Aleksander Łoś from Belarus who has great merit in reviving the backpipe and hurdy gurdy traditions, and Teresa Drozda, the radio reporter who for many years has been creating an important place to share tales of traditional music world at the RDC broadcasting station.
Instruments Fair curator – Piotr Piszczatowski, author of the website: www.targowiskoinstrumentow.pl/targowisko-2018/
Room A and frontyard of the fort – main exhibition of instruments
Room B – THE DANCE HALL
11:20 – MAZURKA, POLKA – preparation for the Dance Night – Darek Kriszpinuk, Kapela Jana Wochniaka
12:20 – DANCES FROM RZESZÓW – preparation for the Dance Night – Kapela z Futomy, Kamila Rainko.
13:20 – DANCES FROM ŻYWIEC – preparation for the Dance Night – Sabina Jurasz, Marcin Blachura
14:20 – BELARUSSIAN DANCES – preparation for the Dance Night – Aleksander Łoś and his Band
15:20 – BAGPIPERS' ASSEMBLY – short presentations by bagpipe players and makers
16:20 – DANCES FROM WIELKOPOLSKA – Kapela Romualda Jędraszaka, Grzegorz Ajdacki
17:20 – MEETING OF THE KIELECKI FESTIVAL ORCHESTRA – preparation for playing with the "Tęgie Chłopy" during the Dance Night! In order to participate it is necessary to bring your own instrument. Moreover, you will need to familiarize yourself with Tęgie Chłopy's pieces to be played during the Dance Night – available on the Festival website and at tegiechlopy.pl.
Room C – LITTLE MAZURKAS
11:00 – "STORIES FROM A SUITCASE", "How a peasant went to see the sun and other Polish folk tales" Live performance by Anna Woźniak and Joanna Sarnecka
12:00 – JEDEN, DWA, JANEK MA – games and entertainment – Katarzyna Jackowska-Enemuo, Iwona Sojka, Adam Cudak
13:00 – KIDS IN DON QUIXOTE'S LAND – dances, games, play, lullabies and instruments – Viguela (Spain)
14:00 – THE QUEEN MUSIC – "where music comes from, where it lives and…" Katarzyna Jackowska-Enemuo and company
15:00 – THE VEGETABLE ORCHESTRA – instrument craft show and workshop – Andrzej Kozłowski
16:00 – TRUMPETS OF JERICHO AND THE ENCHANTED DRUM – instrument making workshops and parade around the Fortress – Witek Vargas, Bogdan Kupisiewicz, Jacek Żelazek
17:00 – TABLA AND HARMONIUM – guests from faraway lands – Jignesh Sheth and Mandar Purandare (India/ Poland)
Room D – THE MEETING HALL
11:10 HARPSICHORD – Story about the craft of its making and opportunity to play the instrument – Michał Koszel
12:10 – HARDINGELFELE and other traditional instruments from Norway – narrated and played by Ånon Egeland (Norway)
13:10 – LUTHIER'S CRAFTSMANSHIP – Paweł and Piotr Kowalcze
14:10 – TONKORI – presentation of Ainu music and instrument – Łukasz Hołuj, Anna Kędziorek.
15:10 – WYRYWASY – vocalists' assembly featuring the group from Gałki Rusinowskie, Maciej Żurek, Mateusz Niwiński and all gathered singing fans
16:10 – ZBIGNIEW BUTRYN – Presentation of instruments and celebration with friends hosted by Ewa Grochowska and Katarzyna Zedel
17:10 – ZENON KURAŚ and KRZYSZTOF SIUTY – Presentation on crafting shepherd instruments (Slovakia, Poland)