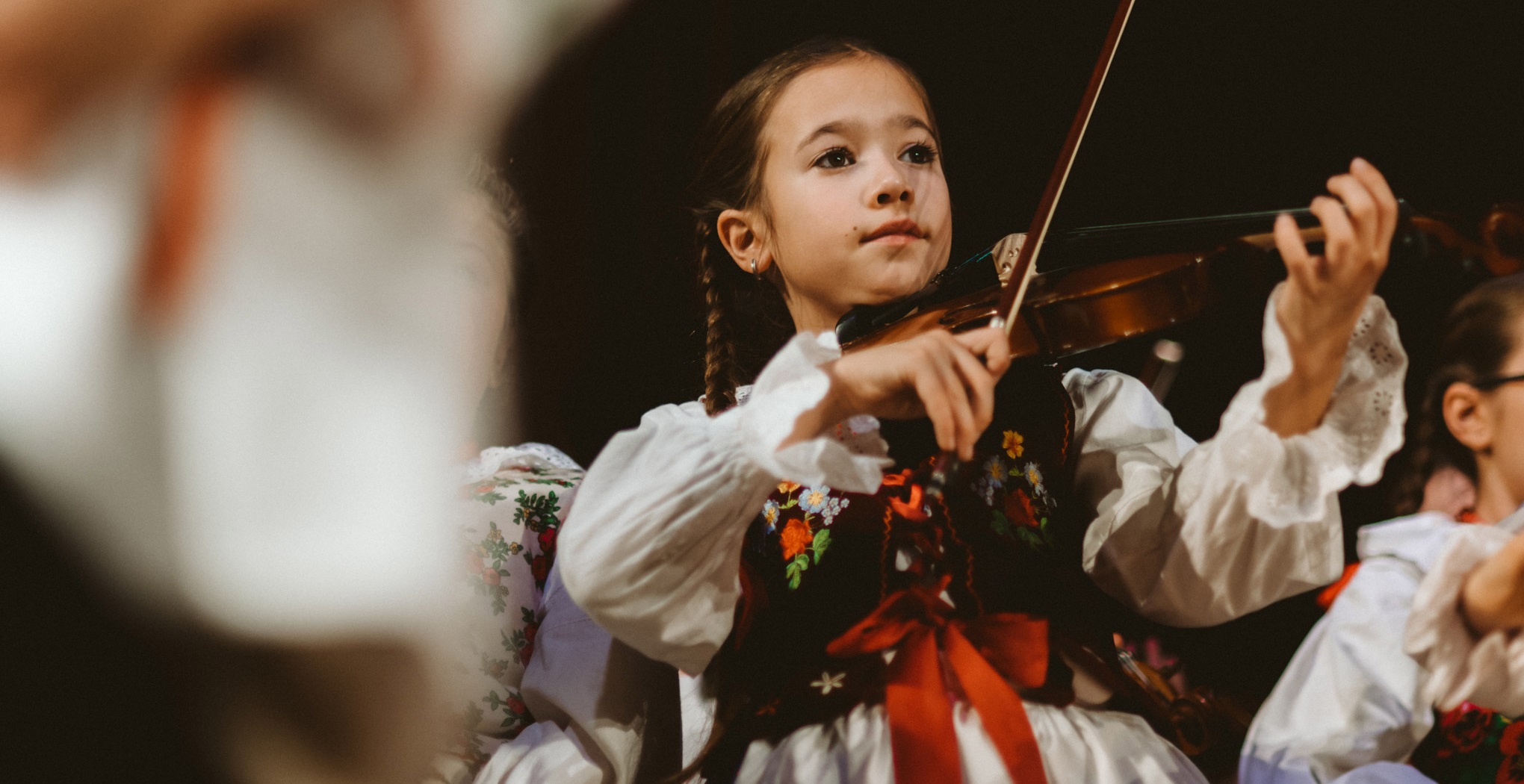 Date
Apr 23 2019
Time
19:00 - 21:00
Cost
20 zł
CONCERT: The Old Tradition
Laureates' Concert Of The Old Tradition Young Performers Competition
Ticket to buy here: EBilet
The Old Tradition competition is addressed to young musicians, vocalists and groups. It is an occasion to present musical skills rooted in the Polish folk tradition. The competition seeks to promote young instrumentalists and vocalists who perpetuate Polish traditional music originating from historical or contemporary regions of the country and attempt to include it in the contemporary culture.
The concert presents 10 winners of this year's Old Tradition competition, who were selected from 23 applicants by the jurors: Stanisława Galica Górkiewicz, Ewa Grochowska, Andrzej Bieńkowski, Piotr Kędziorek, Marcin Pospieszalski, Janusz Prusinowski.
Coordinator of competition: Jakub Korona
The winners are:
Akademia Głosów Tradycji. The group came into existence in 2016 thanks to financial support from the city of Gdynia to organise a year long workshop of traditional singing by Ewa Grochowska. These days they count 14 people of different ages and walks of life. They include a marine biologist, conservation engineer, dietetician, graphic designer, history teacher, ornitologist, shrink and architect. Line-up Anna Fryc, Desislava Gicheva, Beata Kugler, Beata Meus, Joanna Gostkowska, Ewa Kielar, Aleksandra Bakiera, Olga Krasoń, Anna Krawiec.
Graniasta. Four people band fascinated by traditional dance music. They play tunes from the vicinities of Garvolin, Maciejowice and Kołbiel. Their source of inspiration are village musicians such as Kapela Trzpilów from Mierżączka (found in archives) or violinist Stefan Nowaczek from Podłęża. As the next generation of musicians they try to bring back to life oryginal melodies. Line-up: Joanna Rzeźnicka – violin, Ula Smykowska – drum/vocal, Rafał Bieryło – saxophone and Wiktor Porakowski – 3 row accordion
Joanna Gostkowska-Białek – born in 1983 in Kartuzy in the region of Kashubia. Her greatest passion has always been world music, dance and singing. For the last decade she has played Polish traditional music. She has been learning song and dance at workshops and during field trips. Because of her origins and identity she researches and reconstructs kashubian music based on archive recordings and the help from musicians still active today.
Kapela Batareja from Białystok, founded in 2017, are fascinated with traditional music and often play the repertoire of the eastern parts: Suwałki region, Podlachia, Lublin and Zamość regions, as well as eastern borderlands. They play music at village dance parties and open air events. Line-up: Mateusz Tymura – accordion/vocal, Zbyszek Rusiłowicz – cimbalom, Julita Charytoniuk – bereban, drum, vocal, Magdalena Dąbrowska – dance/violin.
Golec Brothers Foundation Band from Jeleśnia – band members are preteges of the Golec Brothers Foudation. They learn to play and sing in one of ten youth clubs run by the foundation in the Żywiec area. They play traditional highlanders' music under the instruction of Marta Matuszna-Wejchenig, Małgorzata Filary-Furowicz and Rafał Bałaś. At the moment the foundation has 300 young students. Line-up: Marta Krzyżowska, Julia Pawlica, Weronika Witas, Wiktoria Pastor, Zuzanna Mentel, Weronika Kołda – violin/vocal, Wojciech Duc – double bass/vocal and Witas Julia, Witas Marta, Anna Drewniany, Aleksandra Wykręt – vocal.
Drajka Bagpipes Band – has been in existence for two years and performs music from the Goat Region in Greater Poland. Line-up: Kamil Knobel (wedding goat), Adam Knobel (clarinet) Karolina Kocik (violin). Kamin and Adam learned to play the goat in the only Polish traditional instruments class at the music school in Zbąszyń from Henryk Skotarczyk, Jan Prządka and Leonard Śliwa. Karolina has gone back to playing violin after a few years and is a self-taught traditional musician. Her first instrument is the harp. The band won many prizes and took part in fastivals in Poland and other countries.
Ze Sini bagpipes band – was founded in 2013 by Jan Prządka, who taught the band members. The musicians have got many individual achievements in competitions. They also won the All-Poland Competition of Bagpipe Bands in Poznań. Łukasz Piątek – wedding goat, Justyna Trześniewska – mazanki
Oliwia Spychel – A 14 year old from Leśna Podlaska. She has played violin since childhood under the eye of Zadzisław Marczuk from Zakalinki. She's interested in ancient traditional music from southern Podlachia and she's also a young poet. She gladly takes part in cultural events, fairs, harverst festivals, charity events, festivals and competitions in her region and on national level with much success.
US Orchestra (Ukrainska Silska Orchestra) – play traditional Ukrainian music, which used to be popular in villages and towns. They take their songs from the repertoire of dance music in old Galicia (historical region of Austria-Hungary). It is varied, original music that requires different instruments. They have gathered their melodies from archives or people met on their field trips. Band members reach for the music of Ukrainian emigrants in the United States and Canada, recorded in 1920s and 30s by Columbia Records. Line-up: Yaryna Dron – first violin, Serhii Postolnikov – second violin/cimbalom, Andrii Levchenko – «bubon» drum/«bas» (cello).
Kawęczyn singing ensemble – has operated since 2016 under the instruction of Paweł Warowny. They take their songs from the older generation in their nativ village of Kawęczyn (near Ryki in Lubelskie voivodship). They collect songs connected to annual rituals (Christmas carols, harvest songs, Lent songs, etc.) Thank to the knowledge of Paweł Warowny and tstimonies from the oldest inhabitants they have managed to recreate the old regional attire. They have performed in many open air cultural events and festivals with great success. Line-up: Justyna Łubianka, Alicja Łubianka, Julia Łubianka, Zuzanna Łubianka, Aleksandra Pieńkosz, Daria Pyrka, Beata Pyrka and Elżbieta Sadrzak.
Admission fee: 20 PLN.
Tickets to buy before concert and here: EBilet