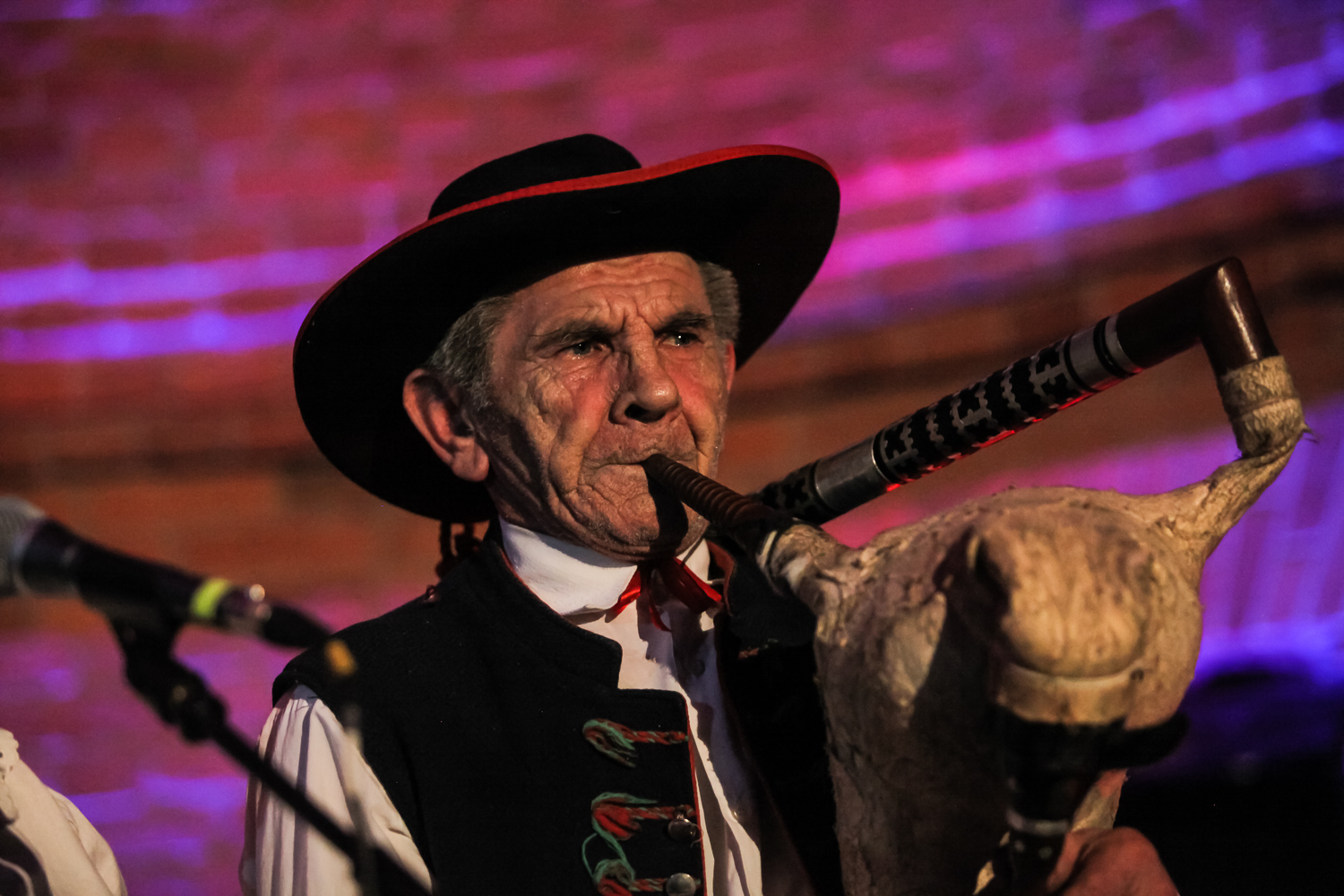 Date
Apr 24 2018
Time
20:00 - 22:00
Cost
20 zł
Laureates' Concert – Old Tradition Competition 2018
Laureates' Concert Of The Old Tradition Young Performers Competition
The Old Tradition competition is addressed to young musicians, vocalists and groups. It is an occasion to present musical skills rooted in the Polish folk tradition. The competition seeks to promote young instrumentalists and vocalists who perpetuate Polish traditional music originating from historical or contemporary regions of the country and attempt to include it in the contemporary culture.
The concert presents 12 winners of this year's Old Tradition competition, who were selected from 32 applicants by the jurors: Stanisława Galica Górkiewicz, Ewa Grochowska, Andrzej Bieńkowski, Piotr Kędziorek, Marcin Pospieszalski, Janusz Prusinowski.
The winners are:
Bały się dud – they met in a folk ensemble and fell in love with the music of Beskid Żywiecki. Each one of them has played since childhood, because they come from musical families. They get inspiration from older musicians in their vicinity, such as brothers Byrtek from Pewla. Together they play music at dance parties, festivals and competitions.
Musical artists: Karolina Bałaś – violin/vocal, Zuzanna Węglarz – Violin/vocal and Adam Jakubiec – Żywiec backpipes/vocal.
Ciśnienie – young band made of people fascinated with traditional music. Their mutual interest is the old music from the banks of the Vistula near Maciejowice. They preserve those melodies and add their own character and temperament. Their scope of songs comes from a renowned violinist Stefan Nowaczek from Podłęża and old recordings from that region.
Musical artists: Joanna Rzeźnicka – violin, Ula Smykowska – frame drum and Rafał Bieryło – bass.
Magurzanki – the female singing ensemble established under Magurzanie folk group from Łodygowice has been in existence for 20 years. It is made by girls of different ages under the direction of Brygida Sordyl – singer, ethnomusicologist and teacher. Magurzanki sing traditional songs from Beskid Żywiecki, including field songs, mountain songs, ritual, carols, Lent, counrtship, love songs, ballads and wedding and funeral hymns.
Musical artists: Agnieszka Sikora, Sabina Słowiak, Magdalena Jakubiec, Agnieszka Wandzel, Zuzanna Szczepańska, Aleksandra Dobija, Klaudia Gruszecka, Joanna Nowak, Agata Jakóbiec, Marta Słowik-Bałaś and Brygida Sordyl.
Formacja Kozioł – band from Kozioł region. Bartek, Maks and Olga have been playing together fro three years. They are good friends too. They play with passion, for themselves and for others, for dance and for listening. They meet and practise very often. They also play in Zbąszyń for the local dance parties organised at the community centre.
Kapela Duchac from Sucha Beskidzka is a duo with traditional makeup – bagpipies (Jan Ryt) and violin (Wojciech Kubasiak). It presents the folklore of highlanders from Babia Góra vicinity. The musicians seek out their repreroire by way of field research – they play the songs they hear from older people. Their base of operations is the community centre in Sucha Beskidzka.
Kapela kozła ślubnego (czarnego) from Zbąszyń is a duo made by Natalia Śliwa – wedding goat, Robert Bielaszewski – mazanki. They started in 2015 under Jan Prządka in Zbąszyń. They have already won prizes at Young Folk Musicians Competition and Konfrontacje Dudziarskie in Poznań. They eagerly participate in the cultural activities of their region and are members of Folk Musicians Society.
Kapela O!statki – In central Polish tradition a violinist who didn't have a band took with him to weddings the so-called statki: violin, bass and drum. O!statki is temperament, liveliness and passion for trance music. The band plays melodies from Rawa and łowicz regions, mostly from Skierniewice. They borrow songs from old masters such as Czesław Kocemba and Wiesław Rochala, as well as old records by Stanisław Klejnas.
Musical artists: Martyna Grabowska – violin/vocal, Marysia De Latour – bass/flute and Kalina Rzepecka – drum/baraban.
Makowska/Kozłowska/Balewicz are a singing ensemble formed by Magdalena Balewicz, Zuzanna Kozłowska andMałgorzata Makowska. Each one of them has different experience of traditional music and song. They borrow their songs from musicans and singers in Suwałki region, where they come from.
Młoda Harta is a band of young, energetic people fascinated by thewir native folklore of Pogórze Dynowskie. The band was established by Andrzej Sowa. Their repretoire continues the works of Kapela Sowów from Piątkowa and its vicinity. They play fast polkas, obereks, waltzes, staiers and tramelkas passed from generation to generation, which are very lively and can easily become an earworm.
Musical artists: Joanna Martowicz-Sienko – 1st violin, Katarzyna Krakowska – second violin, Klaudia Łach –scond violin/vocal, Andrzej Baran – cimbalom, Jacek Szeremeta – double bass and Emilia Cieśla, Szymon Ryba i Marcin Ryba – vocals
Raraszek plays music from the historical region of Lesser Poland. They come from Krakow, but search for songs from the nearby villages and old records. They especially like the music from northern Cracovians, which they deem the most characteristic for non-styes dance tunes. Raraszek is one of the underground devils who does different services to people in exchange for indentured soul. It could hide in pockets, tobacco boxes or purses. It was easily offended and revengeful.
Musical artists: Katarzyna Chodoń – vocal, Maria Stępień – 1st violin, Darya Butskaya – 2nd violin and Arkadiusz Szałata – bass.
Wolhynia in songs – a singing duo (Anna Jurkiewicz and Olga Kozieł) who perform songs from north-east of Lublin, where refugees from Volhynia found safe haven. The music is a mix of Polish, Ukrainian, Jewish, Czech and other songs. The singers also perfom Serbian music as Sekunda mała.
Zbyrk – the band hass been playing together for three years, they also know each other from local folk ensemble Jeferniocek in Ostrowsko, which they accompany dancers. As such they performed at the International Festival Święto Dzieci Gór in Nowy Sącz and "St Ivan's Days" at the Lake Balaton in Keszthely, Hungary. They won 1st prize in children's category of Tomasz Skupień Podhale Music Competition and third place in XXXIII Muzykowanie na Duchową Nutę.
Musical artists: Błażej Pędzimąż – violin/vocal, Arkadiusz Ostwald – violin/vocal, Eryk Pędzimąż – bass/vocal, Mateusz Waksmundzki – violin/vocal