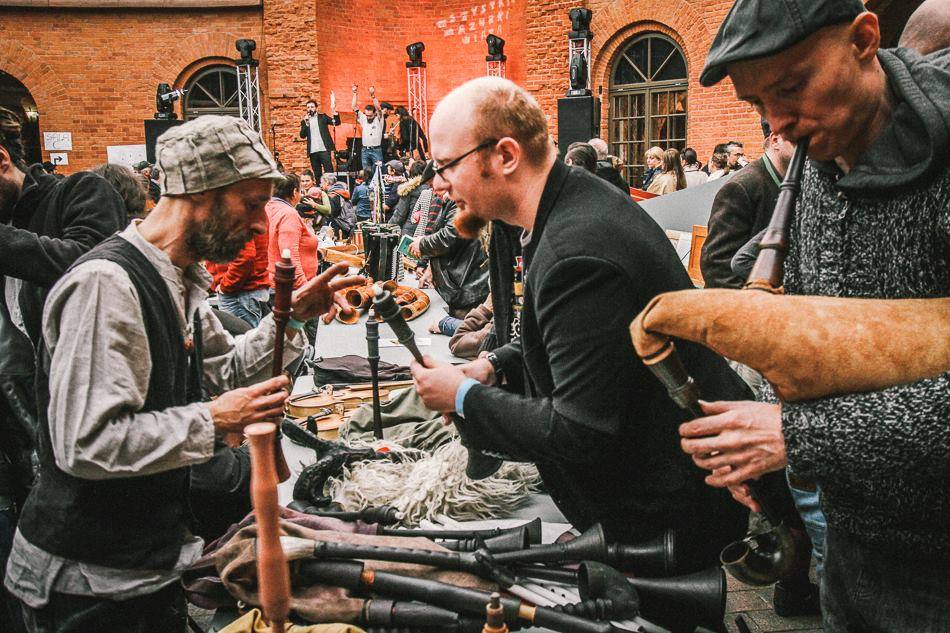 Date
Apr 27 2019
Time
11:00 - 18:00
Cost
20 / 0
The Instrument Fair
This year, the Instruments Fair will be present at the "Mazurkas of the World" festival for the ninth time. The Instrument Fair is a colorful carnival that fosters creates an informal, creative network of artists.
We invite exhibitors from Poland, Europe, and the whole world to present their work: traditional, classical, historical, reconstructions, as well as novel musical inventions. As in previous years, the Fortress will also host instrument technicians, tuners, collectors, musicians, researchers, musicologists, and museum specialists.
The exhibition is combined with concerts, workshops, showcases, theater, spontaneous music and a rich set of activities for children. In 2018, we hosted over 120 instrument makers from 10 European countries. We hope this event will grow even richer in the coming years.
During the Fair we will hand out the Honorary Mazurka Award to show appreciation for artistic achievements and the willingness to share the beauty of music. This year, the Honorary Mazurka will go to our friends – it is impossible to imagine the festival without them: Józef Broda from Istebna – instrument maker, musician and philosopher and Anna Chuda – tireless mistress of hundreds of singers and musicians in Biskupizna.
Instruments Fair curator – Piotr Piszczatowski, author of www.targowiskoinstrumentow.pl 
INSTRUMENT FAIR SCHEDULE
ROOM A AND FORT YARD
Exhibition of more than 100 instrument builders
ROOM B – DANCE HALL AND MEETING ROOM
11.20AM MAZUREK, POLKA AND KOWAL – preparation for the Dance Night – Grzegorz Ajdacki, Henryk Gwiazda Band and MERRY MAZURKAS FROM PRAGA children's band with Paula Kinaszewska
12.20PM SPRINGAR – distant relative of Polish dances- Ånon Egeland and traditional music students from the University College of Southeast Norway
1.20PM GATHERING – KANNEL CIMBALOM – meeting of kannelists and cimbalists from Estonia, Latvia, Lithuania and Poland
2.20PM TANTARELLA – dance workshop and presentation of percussion instuments playing techniques from southern Italy – SALENTRIO
3.20PM GREATER POLAND DANCES – Katarzyna Helpa and Romuald Jędraszak
4.20PM HORSE and other Żywiec dances – Marta Słowik-Bałaś, Przemek Ficek, Marcin Blachura
5.20PM BOURREE and OWIJOK – archaic dances from France and Poland – Obourek Trancexpress: Nicolas Roche, Magdalena Dąbrowska, Jarosław Cendrowski, Dominika Oczepa, Joanna Szaflik.
ROOM C – LITTLE MAZURKAS
11.10AM – SINGING SPRING – traditional songs and Spring rites, musical for children – Mozaika art group with Julita Charytoniuk, Karolina Ociepka, Dominika Oczepa i Joanna Szaflik.
12.10PM – ESTONIAN GAMES for kids – Leanne Barbo
1.10PM – – MUSICAL MEADOW – Józef Broda with daughter Katarzyna Broda – highland tales for kids of all ages!
2.10PM – SKUDUčIAI – Lithuanian instruments, games and dances for kids – Kaunas Folk Instruments Museum workshop
3.10PM – BISKUPIAN SONGS AND GAMES – Anna Chuda, Joanna Szaflik
4.10 – GREEN PRINCESS AND THE QUEST FOR ENCHATED EGG – musical theatre show
Jaworowi Ludzie – Three Kasias – Żytomirska, Szurman, Wińska
5.10PM – SYLVAN ORCHESTRA of Witek Vargas – show and tell, instrument building, solemn parade
ROOM D – MINI CONCERTS AND MEETINGS
11AM – SONORA SOUND TUBE – presentation of an instrument you can enter
12PM – COMPLEX PIANO RENOVATION – show and tell by Piotr Nowak and Jan Masecki
1PM – REGAL – FORGOTTEN ANCESTOR OF PUMP ORGAN – show and tell by Bartosz Żłobiński
2PM – HOW ORGANIST AND BACHELOR SWALLOWED DUMPLINGS BEHIND THE ALTAR – wedding theatre from Kajoki with the introduction by Andrzej Bieńkowski
3PM HARDINGFELE and other instruments – show and tell by Ånon Egeland and traditional music students from the University College of Southeast Norway
4PM – ARTISTIC LUTHIERY IN PODHALE – show and tell by Andrzej Czernik Gracka and Jacek Krupa
5PM – NARSYUCH AND SANKYLTAP – traditional instruments of Khanty-Mansi region (western Siberia) Anna Kędziorek and Łukasz Hołuj