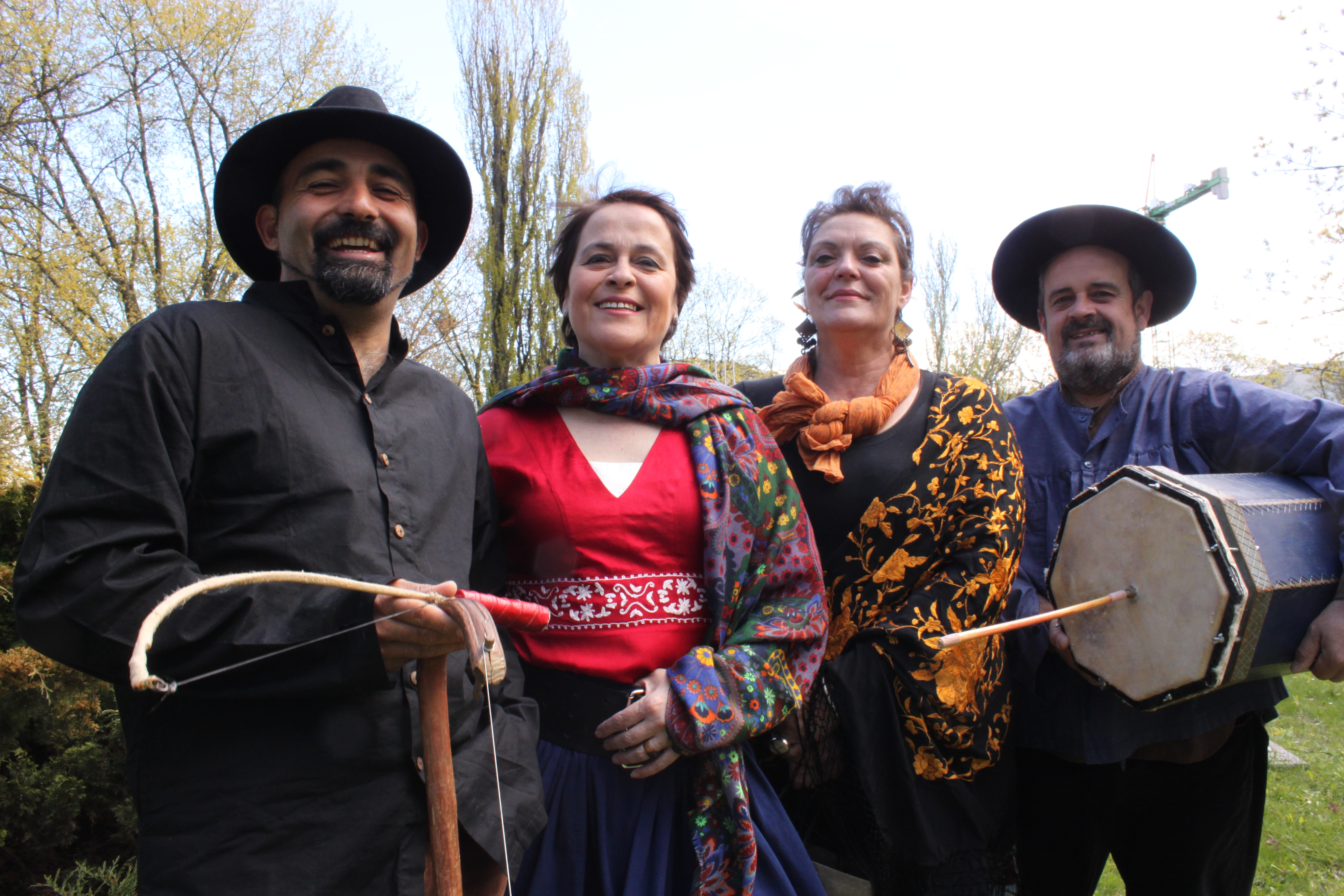 Date
Apr 27 2018
Time
19:00 - 21:30
Cost
30 zł
CONCERT East to West Songs and Rhythms
Part I "The Sacred and the Profane Spring Songs from the Banks of the San"
Part II "Community of Songs. Mazovia – Castile"
The idea clasping together two parts of this concert – beside presenting exceptional songs and music – is to present two types of music relations.
One results from close vicinity and mutual infiltration of cultures growing in the same area for many generations. The musical space of the San riverland is a perfect example of such process. For hundreds of years Ruthenes, Lemkos, Boykos, Poles and Ukrainians and many other ethnic groups have been living next to one another. We can hear how in some areas – of instrumental and dance music especially – the melodies sound very similar. That's a common area. In other aspects, such as religious music, the division is clear and deep. We can thus observe two key processes of separation and unification of musical cultures.
The other relation has its origins in universal laws of music based on "the principle" of how human nature works. They are downright physical laws connected to breath, voice emission, pulse of the body and distance in a dance. It is commonly known how subtle the structure of playing a frame drum in Radom region is. The precise micro shifts and micro accents easily elude a simple analysis, still they are a common "cultural" skill of the musicians inhabiting the area. Therefore, it does not come as a surprise that singers from central Spain with equally refined rhythm structure recognize in Maria Siwiec's drumming the rhythms of their seguidilla dance. There are more of these unexpected "identities" and that's where the idea of the common concert came from. In it we appeal to the universal humanity, the place in ourselves from wherein flows the song, rhythm and musicality.
Part I "The Sacred and the Profane Spring Songs from the Banks of the San"
Easter period is a time for joy and freshness, celebration and symbolism. It is a time, when the most sacred permeates the profane. In the old melting pot of south-eastern Poland the rites of that sacrum changed naturally into profanum. After religious hymns one could hear frivilous vesnianka. The singing and dancing often took place at the graveyard, and the sound of Polish language was mixed with Ruthenian.
"The Sacred and the Profane Spring Songs from the Banks of the San" is an attempt at recreating this beautiful and joyous combination. The sacred sphere is represented by Easter procession songs from hymnaries preserved by oral tradition. The songs are tightly connected with the celebration of Our Lord's Ressurection, and their melodies originate from the 16th and 17th centuries. Carefuly preserved in memory of village singers, these archaic tunes have been now adopted and tended to by the Singers from Przemyśl vicinity, who say about themselves they are singers from the borderlands of cultures and times. The stock of songs has been collected by etnographer Bartosz Gałązka by way of field research and with the help of the research conducetd by Early Music of Jarosław Society.
The second part of the concert are springtime customs, vesnianky-hahilky performed by Krajka and the girls from their associate Przemyśl-based ensemble Dobryj Czas. These lively spring songs were often accompanied by games, merrymaking and teasing couplets about young men and women. The vesnianky have been gathered from village women in Kalniki and Hrebenne.
After Easter came the time for dancing, palying and singing. The joyous songs of Krajka will be accompanied by the string quartet, Serhyj Okhrymchuk band. The bouncy waltzes and polkas used to be sung in Pozdyach (today's Leszno near Medyka), Hrebenne, Werhrat and other villages on the banks of the San.
Taras Kompanichenko will make a special guest appearance and perform Ruthenian religious Easter songs based on the works of Poland's pioneer ethnographer Oskar Kolberg.
Part II "Community of Songs. Mazovia – Castile"
"This is the kind of music people from our village could dance to," said Juan Antonio Torres when he first heard mazurkas and obereks played by Janusz Prusinowski Kompania in Madrid. During another of their trips Kompania came to Juan Antonio's and Viguela's native village, El Carpio del Tajo in Castilla la Mancha and it turned out he had been right – the two musics somehow meshed with one another – mostly as far as rhythms. The Spanish danced their traditional jota and seguidilla to mazurka music. The Poles spinned their obereks to jota. The Mazovian band was immensely impressed by Vigüela's singers, especially Maria Nieto. At that moment an idea was born to have a concert together and invite one more person – Maria Siwiec, the outstanding singer from the village of Gałki Rusinowskie, a crackerjack of twoliner songs called wyrywasy and songs for every circumstance. Maria Siwiec from central Poland and Maria Nieto from central Spain, two women of the same generation, with the same strength and devotion to music they had inherited, and between them – 3 000 kilometres. In the spring of 2017 Vigüela had come to Gałki Rusinowskie and a meeting happened which resulted in today's concert.
This common project wouldn't have happened had it not been to Araceli Tzigane, journalist and manager of Mapamundi Musika radio, who believed in it from the very beginning, supported it and played a key role in its creation.
Maria Siwiec – born in 1959 near Przysucha in the unusually musical micro region of Kajoki. She has been singing from the youngest age, first with her dad and sisters, then as a wedding bridesmaid at capping ceremonies. From 1980 she sang with Zakukała Kukułeczka ensemble from Gałki Rusinowskie. Later, in 2012, she founded Gołcunecki.
Concert curators: Tatiana Nakonieczna i Janusz Prusinowski